As the eldest cousins of the group, Karen and Verónica had the responsibility of having the most fun!
Como eran las primas mayores, Karen y Verónica tuvieron la responsablidad de divertirse a lo máximo!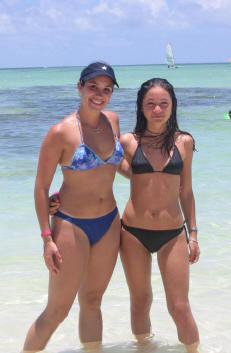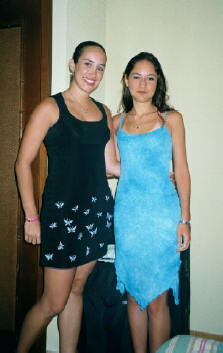 Whether on the beach or @ the clubs, Vero and Karen had a blast!
Ya sea en la playa o en la discoteca, Vero y Karen se divirtieron! :)
The first day, we hung out by the beach...
El primer dia, nos las pasamos por la playa...

But we found that we tanned better poolside.
Pero descrubimos que nos soliabamos mejor al lado de le piscina.
We rediscovered our common love for dancing...
Redescubrimos nuestro amor por el baile...

Our Family Tees were Hurricane Colors...
Nuestras camisas eran del color de los Hurricanes!

L-R: Omar, Maria, Manny, Chiqui, Ele, Hansel, Jess in front, Frankie, Jocelyn on Frankie's shoulders, Papo, me, and Pablo

L-R: Me, Jocelyn, Jess, Carmen, Chiqui, Ele, Maria

We met some really cool peeps from Miami... Much love to "La Familia"... Our own family called them "Los Cubanos de Miami"
Conocimos a un grupo chevere de Miami, conocidos como "La Familia"... Nuestros tios les llamaron "Los Cubanos de Miami"
Primita, estoy feliz de la vida que llegamos a pasar una semana tan linda juntas... Te quiero mucho!
"La Familia": Y'all rock... We most definitely have to do it again! ;)